Workplace Wellbeing Programmes
Pathlight offers bespoke workplace wellbeing programmes that can transform your organisation's culture, empower your employees and boost staff wellbeing.
Our workplace wellbeing solutions can be tailored to your organisation's needs, from generic, brief coaching to in-depth reviews of your workplace culture, including many aspects of your management, HR, staff wellbeing and employee engagement processes.
Pathlight can empower your organisation to develop a positive and efficient workplace culture, focussed on employee-centred wellbeing, holistically incorporating mental, emotional and relational good practice, compassionate management plus employee purpose, motivation and engagement.
The well-known trope 'employees don't leave companies, they leave managers' is borne out by research.  A ten-year study across 200,000 employees and managers revealed that 79% of employees cited 'lack of appreciation' as the key reason they left their job[1].
Contact us now to discuss how Pathlight can meet your organisation's needs and help your employees thrive.
[1] O.C. Tanner (2018): Performance: Accelerated.
Performing with Compassion
Pathlight's flagship Performing with Compassion holistic programme boosts efficiency by enhancing employee wellbeing and re-engineering management and HR processes.  It places your employees at the heart of your corporate culture, respecting each person as a unique individual and empowering them to thrive. 
A recent study proved that productivity is 13% higher when employees are happy.  Pathlight's holistic workplace wellbeing programmes can also reduce absenteeism and presenteeism (employees who present at work but are not operating efficiently due to physical, mental, emotional and motivational issues).
Our Performing with Compassion programme addresses a wide range of areas to optimise performance and employee wellbeing, through various modules and techniques including:
Rebalancing power dynamics: transforming 'us and them' culture to 'we' culture
Thriving through awareness, respect and nurturing of individuals' needs
Boosting employee engagement and motivation through meaning and purpose
Managing staff with kindness, compassion, acceptance, empathy and deeper understanding
Mindfulness for calm, acceptance, stress reduction and collaboration
Productivity through conscious presence, concentration and engagement
Re-engineering performance management towards coaching
Building trust and loyalty through honesty and openness
Learning for life
Boosting resilience and overcoming 'limbic hijacks' – neurological tips to respond rather than react
Community Building and collaborative creativity
Psychological safety in the workplace
Empowering with trust and self-responsibility
Collaborative planning and learning solutions (including pre-mortems and 'shop floor' expertise) rather than 'top-down' management
Replacing the language of judgement and blame with responsibility
Addressing employees' performance and absence issues with care
Connecting with hopes and fears
The benefits of gratitude and recognition practices
Receptive presence: non-judgemental listening and communication skills
Self-care strategies for a healthy mind, body and soul
Overcoming unhelpful transference in relationships
Managing conflict by cultivating compassion
Boosting motivation through conscious presence
Non-Violent Communication
Goal-setting vs fear-setting
Mental Health First Aid
Many of the units of our Performing with Compassion programme are also available as standalone webinars and workshops.   Please click here for details.
Why invest in a Pathlight workplace wellbeing programme?
Pathlight's workplace wellbeing programmes benefit both organisations and employees.  A recent independent report for the UK government showed that holistic workplace wellbeing interventions produce an RoI (return on investment) of up to 9:1.  Other research suggests that employees with low engagement and wellbeing are 48% more likely to leave their company.
Key outcomes from our holistic programmes are:
Improved efficiency, productivity and profitability with less stress and burnout (67% of full-time workers experience burnout)
Enhanced employee happiness, motivation & engagement (only 48% of UK workers feel engaged)
Reduced costs associated with staff turnover, absence and presenteeism by up to 30%
Improved wellbeing (including mental health and self-care)
Managers' people skills boosted; organisation becomes more employee-centric
More inclusivity around mental health issues and emotional difficulties
Pathlight's programmes draw upon a range of evidence-based best practices and research-backed solutions.  With broad experience in the fields of psychotherapy, Mental Health First Aid, project management, mindfulness, business analysis and product development, you can have confidence in our ability to deliver highly effective workplace wellbeing programmes.
Pathlight offers ongoing support to individuals and organisations that have benefited from our workplace wellbeing programmes.  This optional support can take the form of:
Regular or one-off reviews of workplace wellbeing performance; or
Ad hoc telephone, email or face-to-face consultancy support on specific issues.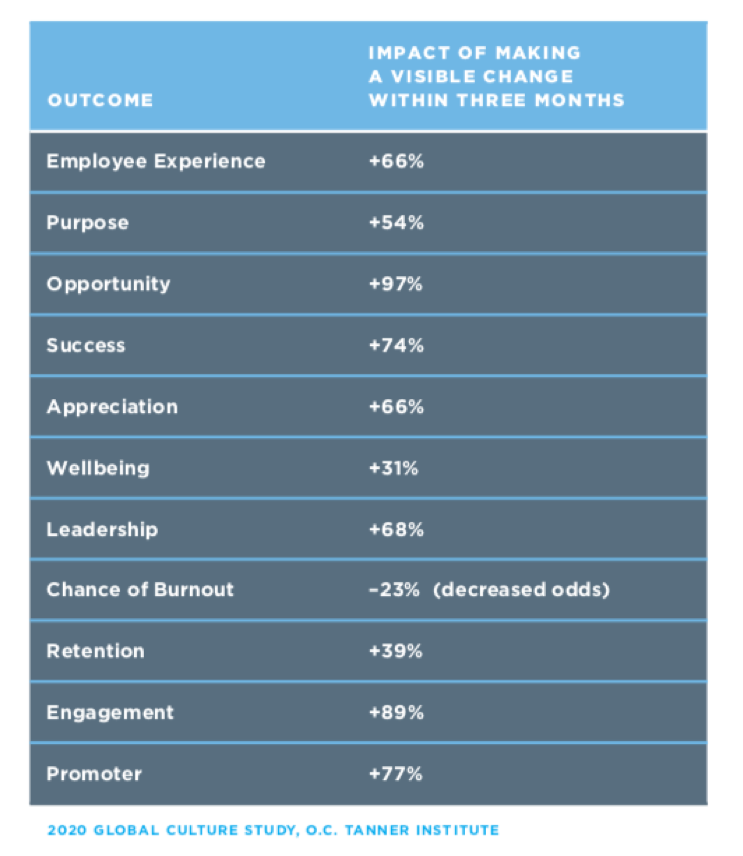 Global Culture Study
As this Global Culture Study shows, when organisations make visible changes to their workplace culture, they see drastic improvements in employee engagement.
Please use the form below to contact us for more information about any of our courses and services.
Alternatively, please call us on:
07971 143571