Our Services
for Organisations
Individuals, Families & Teams
Pathlight offers a range of bespoke training, support and coaching services for organisations and individuals.
Please contact us for more details on any of our services.
We offer a range of Adult Mental Health First Aid (MHFA) training courses for individuals and organisations.  MHFA is an internationally-recognised training course that teaches people how to spot the signs and symptoms of mental ill health and provide help on a first aid basis.  It's the mental health equivalent of physical first aid.
Adult MHFA training is aimed at those who wish to support adults who are experiencing mental health issues – in the workplace or their private lives.
Spot the signs and 

symptoms

 of mental health issues

Identify and respond in a mental health crisis 

– and even potentially stop a crisis from happening

Listen, empathise and converse without judgement

Provide information, support and reassurance

Signpost to professional and non-clinical forms of support
Our workplace wellbeing programmes can boost productivity, wellness, collaboration and engagement in your organisation.
Our bespoke solutions can be tailored to your organisation's needs, from short webinars to in-depth reviews of your workplace culture. This can include many aspects of your management, HR, staff wellbeing and employee engagement processes.
Develop a positive, nourishing and efficient workplace culture

Employee-centred holistic wellbeing, meaning and purpose

Boost motivation, engagement, productivity, mental health and emotional wellness

Compassionate management and relational best practice
Pathlight's bespoke coaching supports individuals, families and teams to be the best they can be.  
Enjoy compassionate relationships whilst mindfully connecting to yourself, your purpose and the world around you.  We can also help you to achieve goals, enjoy positive mental and holistic health, boost productivity and engagement in all areas of your life.
Coping with stress, loneliness, anxiety, depression and other challenges
Helping individuals and teams achieve goals, boost productivity, focus & direction
Support around parenting, relationship & communication issues
Nurturing holistic wellbeing, including mindfulness & physical health
Pathlight's webinars and interactive workshops help individuals and organisations develop key skills to enhance performance, relationships, awareness and compassion.
Our range of powerful and inspiring webinars and workshops draw upon a range of evidence-based best practices.
Leadership, compassionate management and corporate culture
Workplace mental health
Working from home/home-schooling
Stress, anxiety, resilience & self-care
Compassionate communication
Motivation, purpose and meaning
Mindfulness for resilience, stress, equanimity and difficult emotions
Positive mindset and overcoming unhelpful thoughts and behaviours
Organisations and individuals can enjoy valuable ongoing support from Pathlight's unique Mental Health First Aid PLUS+ scheme.  
We offer bespoke post-training CPD and supervisory support to individuals and organisations that have attended our Mental Health First Aid training programmes.
In-role CPD: enhance your communication skills, work through case studies, embed best practice. 
Emotional and practical support for those affected by an incident in their role as a Mental Health First Aider.
Organisational reviews to refresh and optimise how MHFA is embedded into your workplace.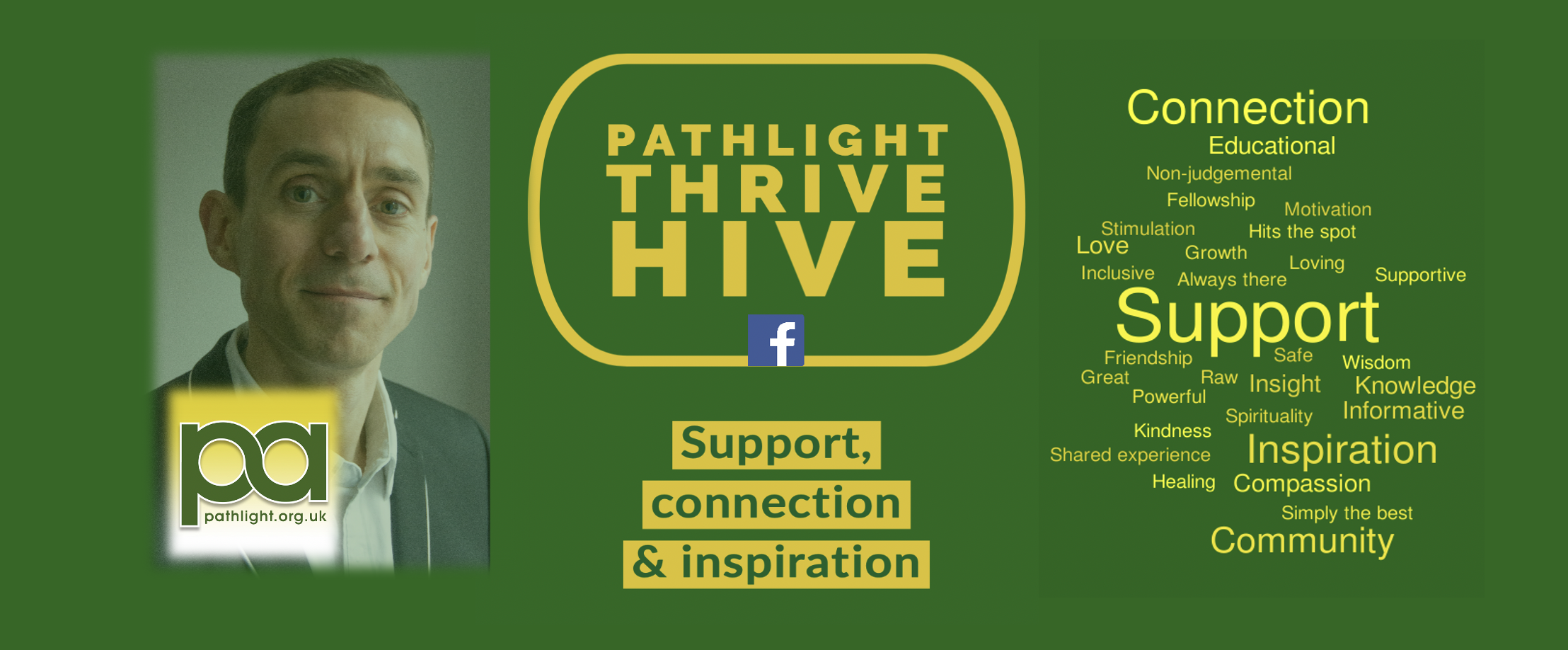 Join our FREE Facebook group for support, inspiration and connection around
mental health, holistic wellbeing, personal development and navigating life's challenges.

Enjoy webinars with mental health and wellbeing professionals
plus inspiring talks with individuals sharing their lived experience of mental health issues.

'The Hive' is a safe, compassionate space to
share your personal journey and connect with others.

www.facebook.com/groups/PathlightThriveHive
Please use the form below to contact us for more information about any of our courses and services.
Alternatively, please call us on:
07971 143571